Oil Market update
by Clive Maund
www.clivemaund.com
September 19th, 2006
Oil broke down below the support detailed in the last update as if it wasn't there and has fallen steeply to become deeply oversold.
We can see the complete disregard for this support and the steep decline that followed its failure on the 1-year chart for West Texas Light Crude. The drop has resulted in the RSI and MACD indicators falling to critically oversold levels, strongly suggesting that a bounce is imminent. In addition, crude is clearly very oversold relative to its moving averages.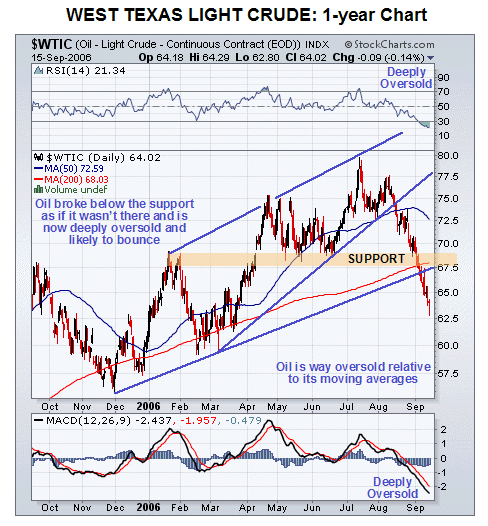 On the long-term chart we can see how oil has also broken down from an "inner" long-term uptrend that dates back to mid-late 2003, although here it is important to note that the broader long-term uptrend, which dates back to late 2001, remains intact. The break of the inner long-term uptrend channel line points to a continuing decline back to the lower boundary of the broad long-term uptrend, currently at about $56.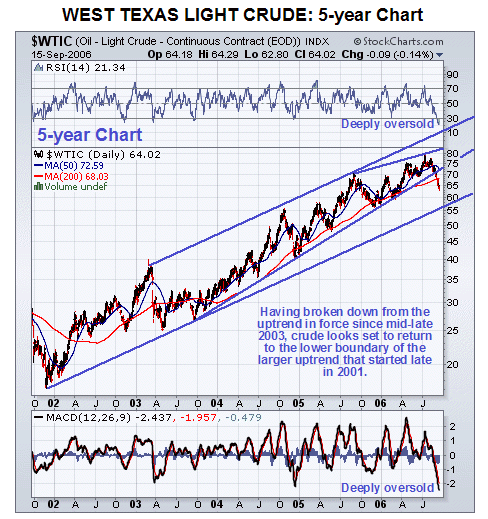 Bringing what we have observed on the 1-year and 5-year charts together, it would appear that the current intermediate downtrend is likely to end when oil has dropped to meet its broader long-term uptrend channel line, currently at about $56, but that the downtrend can be expected to be interrupted by a short-term bounce that should reach the $67 - $68 area. This rally would unwind the oversold condition sufficiently to allow for the completion of the downtrend with a final drop back to the $56 - $58 area.
Although oil shares have fallen in response to the drop in crude, they have not fallen by all that much, considering the magnitude of the drop in oil. The channel boundary shown on the 1-year OIX oil index chart has not been breached, although it could well be should crude go on to drop to the $56 - $58 area after a bounce.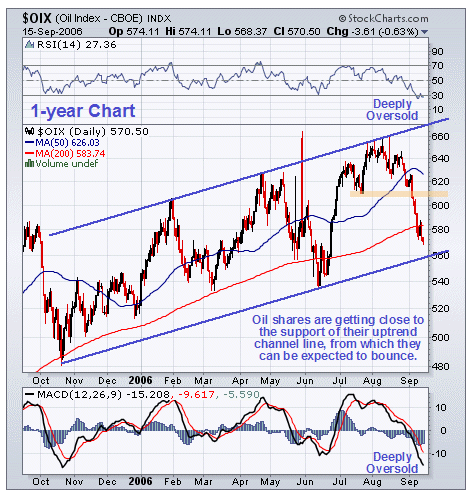 As we can see on the 5-year OIX index chart, a break of this channel would have bearish implications. Right now, the index looks oversold on a short-term basis and looks set to rally in sympathy with a near-term rally in crude.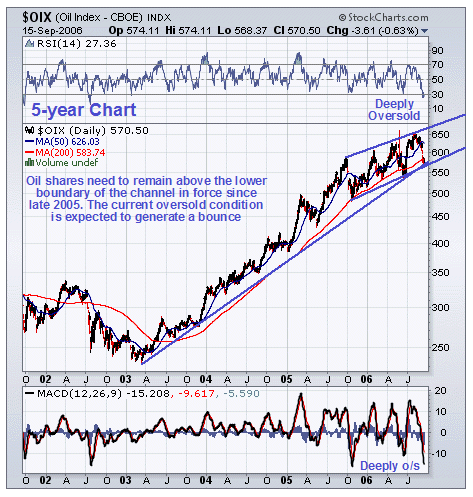 Clive Maund
support@clivemaund.com


Clive Maund is an English technical analyst, holding a diploma from the Society of Technical Analysts, Cambridge and living in southern in Copiapo, Chile.
Visit his subscription website at
clivemaund.com
.[You can subscribe
here
].
No responsibility can be accepted for losses that may result as a consequence of trading on the basis of this analysis.
Copyright © 2003-2006 CliveMaund. All Rights Reserved.