Oil Market Update
Clive Maund
support@clivemaund.com
April 7th, 2010
The U-turn on gold and silver in their latest updates for which our outlook is now bullish requires an immediate revision of the outlook for oil, as clearly it is very unlikely that gold and silver will rise due to the predominance of inflationary forces at the same time that oil is falling.
On the 3-year chart for Light Crude we can see that it has been creeping higher within a shallow uptrend for months, with the advance slowing to a stop as it has run into overhead supply from the large top area. This slowing has allowed its moving averages to catch up so that price and moving averages are now quite tightly bunched, with moving averages still in bullish alignment. a situation that typically leads to a big move. Whether oil breaks out upside or downside from this pattern is now thought to largely depend on whether inflationary or deflationary forces take precedence, and given that we have determined from the behaviour of gold that it is likely to be the former, i.e. inflationary forces, it is thought probable that oil will continue to advance, with a good chance that it will accelerate once it breaks above the resistance shown and rise out of the current shallow channel.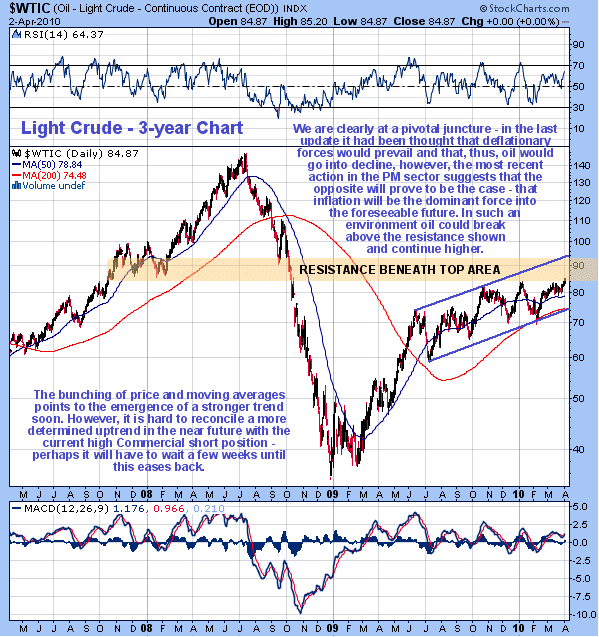 Just over a week ago it had looked like oil was rounding over in readiness to drop back, as we can see on the 6-month Light Crude chart. However, it reversed and then rose strongly to break above resistance at its January highs, in response to the resurgence of inflationary fears and also to the sudden weakness in the dollar.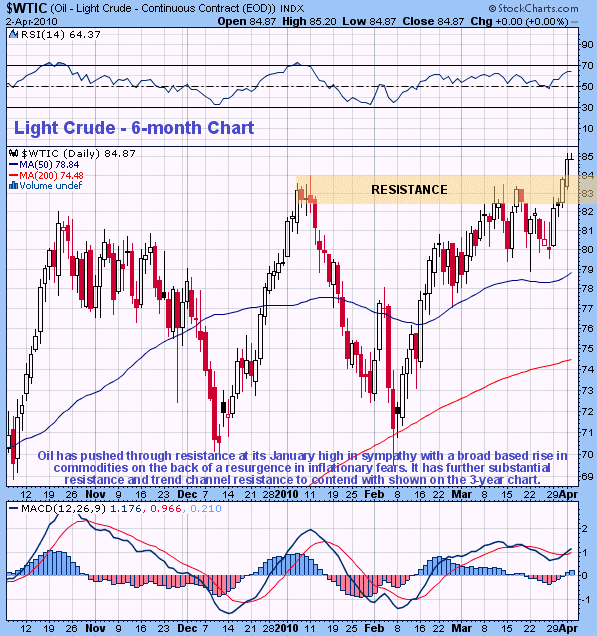 A complicating factor for oil is that its COT chart still looks bearish, in marked contrast to gold, with high Commercial short and Large Spec long positions. This and the current short-term overbought condition after the sharp rise last week increase the chances that it will consolidate before making further gains to allow these factors to moderate - if it does press higher in spite of these restraining factors it will only increase the chances of a more substantial reaction.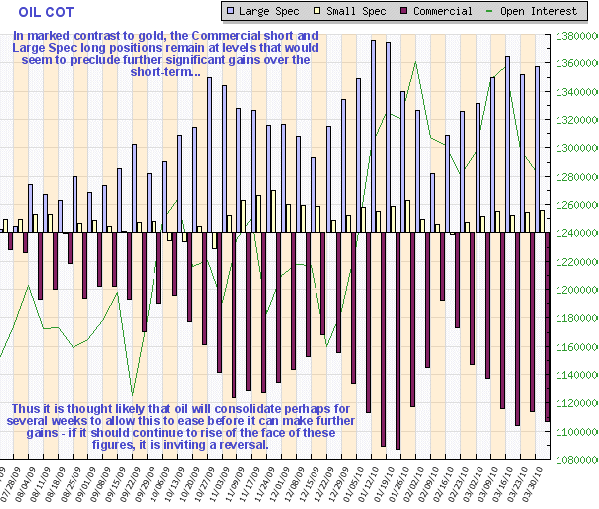 The fate of oil stocks depends in large part on what happens to the broad stockmarket, which remains overbought and rather vulnerable. If it holds up then oil stocks may succeed in breaking above the resistance shown on our 3-year chart for the OIX oil index, which is the lower boundary of a large top area, and advancing towards the upper boundary of their uptrend channel. This would result in good gains and is very possible in an inflationary environment. Like oil itself the index and its moving averages are now quite tightly bunched suggesting that a sizeable move is looming.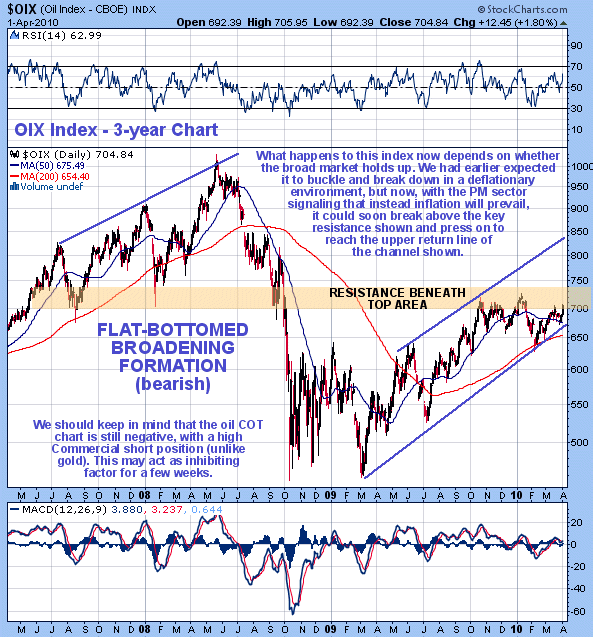 The 6-month chart, which is of limited use technically, enables us to examine recent action in more detail, in particular the sharp rise last week in response to the rise in crude prices. As it is approaching the top of a shorter-term channel and a zone of resistance, it is likely that it will slow soon and consolidate for a while before making further progress.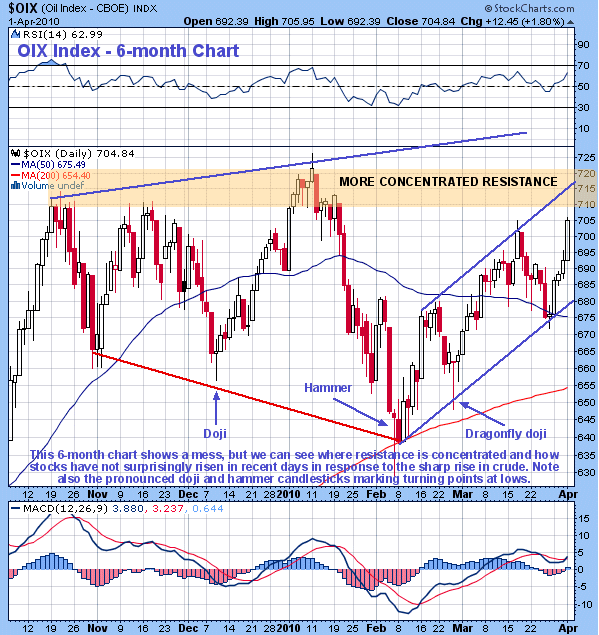 Clive Maund
April 7th, 2010
support@clivemaund.com
Clive Maund is an English technical analyst, holding a diploma from the Society of Technical Analysts, Cambridge and lives in The Lake District, Chile.
Visit his subscription website at
clivemaund.com
.[You can subscribe
here
].
Clivemaund.com is dedicated to serious investors and traders in the precious metals and energy sectors. I offer my no nonsense, premium analysis to subscribers. Our project is 100% subscriber supported. We take no advertising or incentives from the companies we cover. If you are serious about making some real profits, this site is for you! Happy trading.
No responsibility can be accepted for losses that may result as a consequence of trading on the basis of this analysis.
Copyright © 2003-2009 CliveMaund. All Rights Reserved.