Oil Market Update
Clive Maund
support@clivemaund.com
March 24th, 2010
Oil has continued higher, as predicted in the last update a month ago, but there has been a marked deterioration in its technical condition that has accelerated with the passage of time, to the point that a MAJOR REVERSAL is believed to be imminent.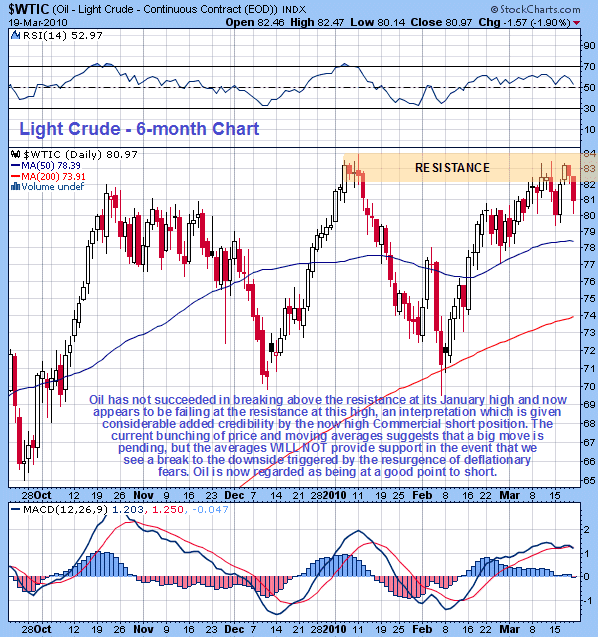 On the 6-month chart for Light Crude we can see how oil has continued higher over the past month as expected. However, the rally has failed to break above the resistance at the early January highs, and the price now appears to be rolling over and in danger of going into reverse. Oil is moderately overbought as measured by its MACD indicator which also reveals that upside momentum is flagging. Although moving averages remain in bullish alignment the price and principal moving averages are now increasingly tightly bunched - which means that a big move is probably brewing which other factors suggest is likely to be to the downside.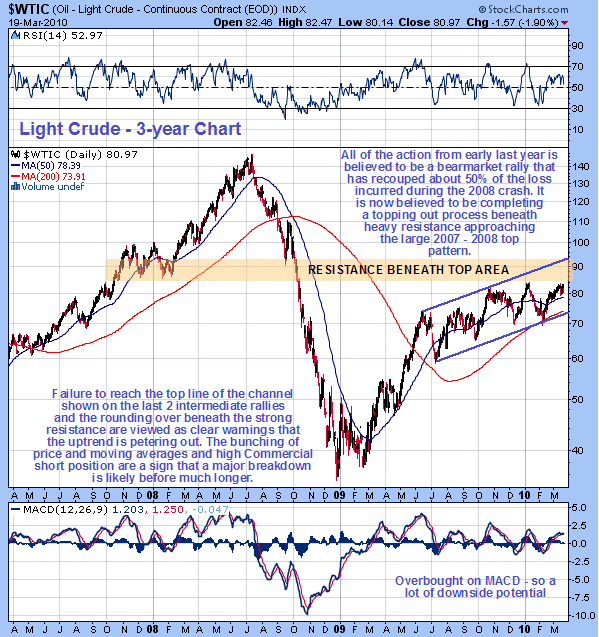 On the 3-year chart for Light Crude we can see why oil is looking increasingly likely to break to the downside. Following the strong recovery rally during the first half of last year it has continued higher but at a much gentler pace within the confines of the uptrend shown. However as it has approached the strong resistance beneath the top area it has slowed and rounded over, with the last 2 intermediate uptrends failing to make the top return line of the uptrend channel. This is a clear sign that the uptrend is probably exhausted and a warning of an impending major reversal. Given that the entire rally from early last year could be just a recovery rally within a larger bearmarket, which will certainly prove to be the case should another deflationary downwave strike - and everything that is now coalescing suggests that it will, then we are clearly at an excellent point to close out all long positions in oil and reverse position and short it here, as failure of the uptrend at a time when commodities generally are in broad retreat could easily lead to a severe decline.
Of course it's not easy for many traders to forsake their oil long positions and even contemplate shorting it, what with all the bullish press oil gets and the endless talk about "Peak Oil". So at this point we will consider what the big players are doing - the guys who always come out on top and fortunately for us leave behind their track record on the COT charts.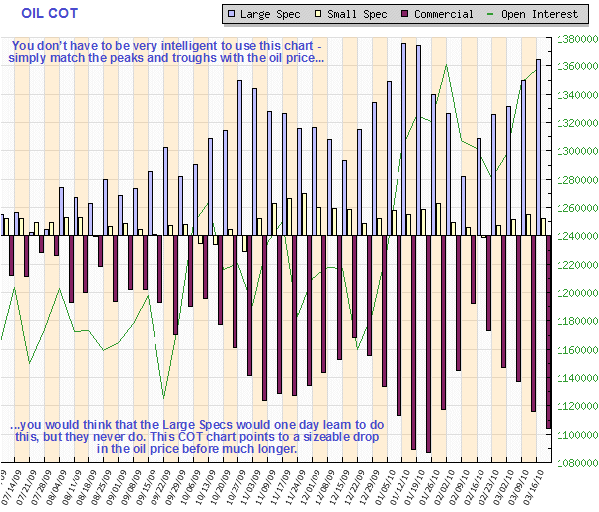 We used the oil COT chart to successfully predict the continuing rally of recent weeks in the last update, but now, as we can see, the Commercials' short positions have ramped up again to a a high level in recent weeks. This, just by itself, is a strong indication that a heavy decline is in the offing.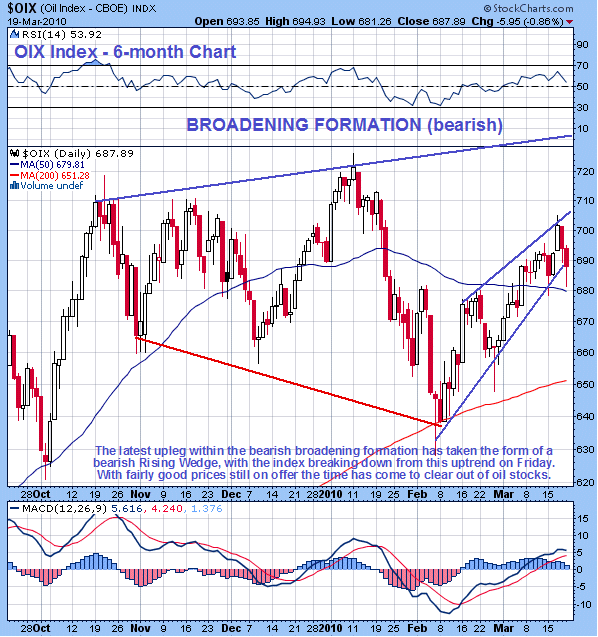 If oil looks increasingly weak, what about oil stocks? They look even worse than oil. On the 6-month chart for the OIX oil index we can see that oil stocks have not even made it near their early January highs on the latest uptrend which has taken the form of a bearish Rising Wedge from which the index appears to have started to break down just last Friday. Furthermore, a large bearish Broadening Formation appears to have developed from last October that portends a bearmarket.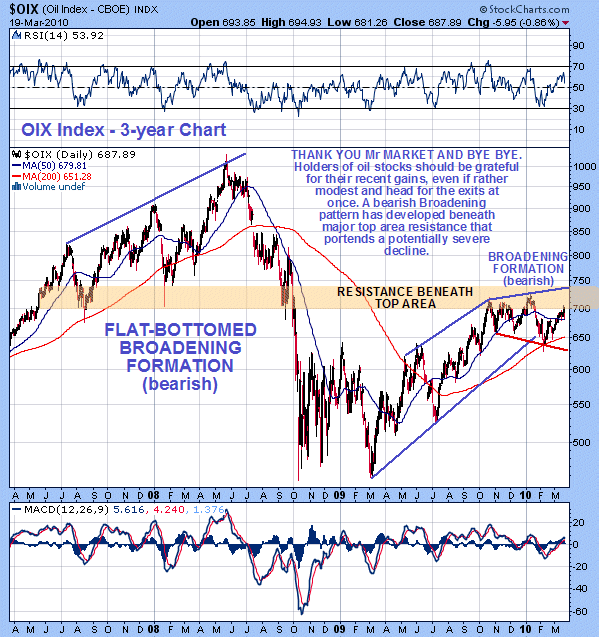 On the 3-year chart for the OIX oil index we can see that the Broadening Formation mentioned above has developed beneath a zone of strong resistance at the bottom of the large top area that formed during 2007 and 2008, which took the form of a Flat-bottomed Broadening Top. Referring back to the 3-year chart for Light Crude we see that this stalling out beneath a zone of heavy resistance at the bottom of a large top area also occurred with oil, which is hardly surprising. We also see on the 3-year OIX oil index chart that the decline into the February low resulted in a break of the uptrend in force from March last year, which continues to have bearish implications despite the recent rally. With prices still comparatively high this is believed to be a good point to offload oil stocks and maybe short the weaker ones.
Clive Maund
March 24th, 2010
support@clivemaund.com
Clive Maund is an English technical analyst, holding a diploma from the Society of Technical Analysts, Cambridge and lives in The Lake District, Chile.
Visit his subscription website at
clivemaund.com
.[You can subscribe
here
].
Clivemaund.com is dedicated to serious investors and traders in the precious metals and energy sectors. I offer my no nonsense, premium analysis to subscribers. Our project is 100% subscriber supported. We take no advertising or incentives from the companies we cover. If you are serious about making some real profits, this site is for you! Happy trading.
No responsibility can be accepted for losses that may result as a consequence of trading on the basis of this analysis.
Copyright © 2003-2009 CliveMaund. All Rights Reserved.