3 Natural Gas Stocks in an Uptrend
Keith Schaefer, Editor
Oil & Gas Investments Bulletin
editor@oilandgas-investments.com
May 18th, 2013
Natural gas is the only commodity in North America where the US dollar is not the key factor affecting prices, says technical analyst and newsletter writer Donald Dony. He adds that the greenback sets the backdrop for oil, copper and other commodity prices.
North American natural gas, however, is a different story. He says it's more fundamentals that are driving price actions, compared to other mainstream commodities. And here's what his charts are telling him on where natural gas prices are headed:
"Natural gas is still trading within a range. It has gone right up to top of range, at US$4-$4.50 (per thousand cubic feet, or mcfcompanies usually convert gas production into oil). There is a lot of price resistance there. It looks like we're not going to go much further than this."
Dony writes The Technical Speculator, an investment newsletter focused on reading stock charts- www.technicalspeculator.com.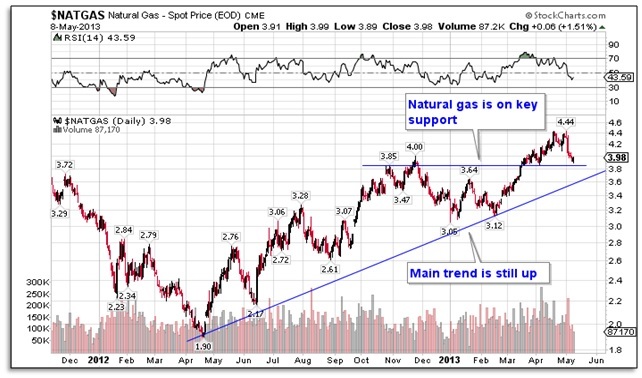 "But saying that, we are in an upward band from May of last year, with higher highs and higher lows. We're doing fine from that perspective. So I don't think you're going to see a big pullbackMarket only pullbacks X-Y % in natural gas prices. Maybe $3.80-$4.00 but I don't see it much lower than that.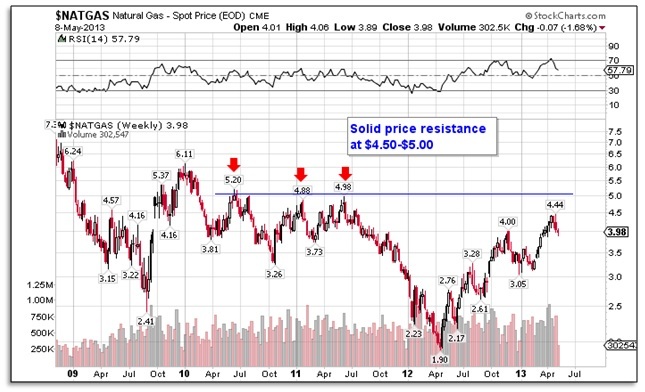 "Natural gas has changed its trend. Now it's just a slow process that's gathering speed. BUT - there is a mountain of price resistance here. I think it's going to level off but not fall back to $2.25/mcfcompanies usually convert gas production into oil or anything.
"This is interesting - if you look at fundamentals you could say it will go back under $2 as there is so much supply. But the market is anticipating more demand. It's probably stalling at this juncture, but you have to see it below $3 to see it crater to $2 and I don't see that happening."
"What I expect we will see is a gradual rise up to $4.75-$5.00 this year. If natural gas breaks above $5.00 then the target goes to $6.50. But I am not betting this will happen given the high inventory levels and huge ongoing supply."
Even if there are low prices in a given sector, there are almost always good buys to be had, he says.
"There are always leaders within a sector, and those are the ones you need to find. They're the ones that keep going forward."
Alright-then who are the leading charts in the natural gas sector where investors could be looking?
Tourmaline Oil Corp-TOU-TSX; TRMLF-PINK-TOU is one of those leaders. It looks like it's in a great uptrend. If the overall market holds, it's still going higher, it looks great-my target is $48.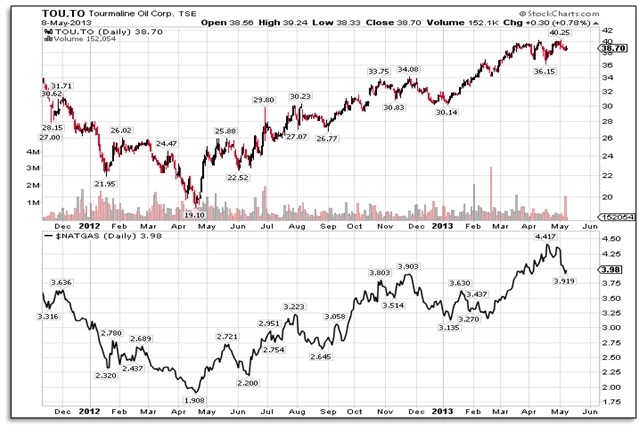 Peyto Exploration and Development-PEY-TSX; PEYUF-PINK-This is another leader, though we could see it hang under $28 for next couple of months. My first target is $32.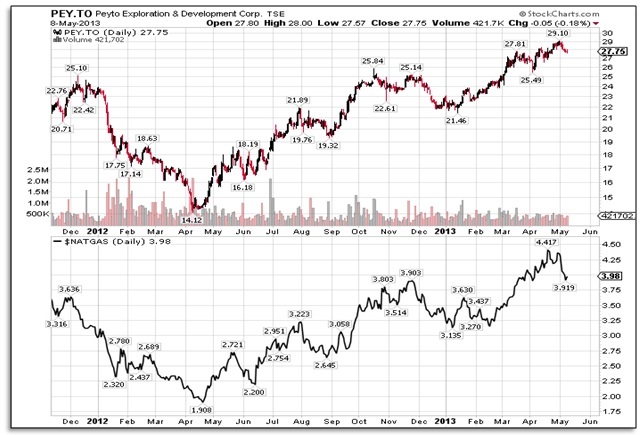 NuVista-NVA-TSX; NUVSF-PINK-is closely following natgas prices, which is trending up. The stock has broken above a level ($6.00) which for five months investors would not pay that much.
Now, with rising natgas prices, they are willing to pay more for NVA. And around $6.00 should act as the price support level (and good buy-in opportunity) on any retracement. $9.50 is the first target.
Disclosure: Donald Dony nor Keith Schaefer own stock in any companies mentioned, nor have any business relationship with them.
Keith Schaefer, Editor
Oil & Gas Investments Bulletin
editor@oilandgas-investments.com
May 18th, 2013

The service we endeavor to provide is to analyze and clarify the nature and potential of certain North American junior oil and gas producers, and identify those situations where the market either misunderstands the nature of the company or assigns unduly optimistic or pessimistic success odds to the company. Keith Schaefer is not a registered investment dealer or advisor. No statement or expression of opinion, or any other matter herein, directly or indirectly, is an offer to buy or sell the securities mentioned, or the giving of investment advice. Oil and Gas Investments is a commercial enterprise whose revenue is solely derived from subscription fees. It has been designed to serve as a research portal for subscribers, who must rely on themselves or their investment advisors in determining the suitability of any investment decisions they wish to make. Keith Schaefer does not receive fees directly or indirectly in connection with any comments or opinions expressed in his reports. He bases his investment decisions on his research, and will state in each instance the shares held by him in each company.